Sheepdog training
As well as HTM one of Richards passions is sheepdog trialling and training. Since moving to Grantham he has successfully competed resulting in his first appearance at the English national sheepdog trials which is the Crufts of the sheepdog world. He has various dogs in training and occasionally breeds a litter of ISDS Border collies. If you are interested in starting your own dog or would like to come for a "Sheepdog experience" session please get in touch.
Here is a short video of Trevors training after just a couple of months
Sky 1 Dogumentary / A different breed filming
Since the start of August me and the dogs have been busy not only with the normal stuff but also doing some filming for a forthcoming series on Sky one called A Different Breed. It is meant to be a documentary style programme looking at people and their dogs so they had asked me if they could follow us as we did various events. You never quite know what you are letting yourself in for with TV filming as they can film something and give it a different twist when they show it so its always a risk. I spoke with various people about the programme included the series producer as I was concerned about how they would show the sport. They tried to reassure me by putting various clauses in my contract saying that the sport will only be shown in a positive light but we will have to wait and see if they are true to this.
They firstly came to a cabaret night I did in Selsey where I was pleased that the dogs all behaved themselves. Then this same crew followed me at a competition where I was working Whizzy in intermediate freestyle. Im glad to say that she won her class and the routine went ok even though Whizzy was a little energetic at times.
Paws in the park was the next event they filmed me at and the dogs gave them some TV gold as the dogs decided during our demo that the fresh horse dung was good enough to eat! Now I just know that will be included but thatís dogs for you they are not robots.
The team behind Dogumentary / A Different Breed wanted to show how I developed a routine so in another session we did some filming of the props, costumes that I use. Then we did some on how the moves go together where they wanted me to show some of the training for a new routine. I have to say that some of what you see for the ď new routineĒ might be a bit of a red herring as this might be shown before the semi finals in January.
Later in September I was asked if they could use the dogs in the opening title sequence. So one Monday morning we made our way to Snoopies grooming salon in Colchester for the filming. As usual we filmed all day with my dogs plus another two for just a twenty second piece of film. Watch out for Whizzys L'oreal moment where she was wearing sunglasses whilst her hair was being blown with a hairdrier - it was meant to show from normal dog to showbiz dog !
The last session of filming was on the beach as I really wanted to show that it is not all work and no play for the dogs. My dogs love going to the beach and I hope their enjoyment of being there comes through in the programme.
I had some lovely directors and teams of camera people during all the filming so thank you to Sam, Emma and Anoska for making the filming fun. Now we have to wait and see if ďA Different breedĒ is going to show us in a positive light or whether I will be cringing behind my hands while watching it !
A Different Breed should be shown on Sky 1 sometime in the Spring.
Australia 2010
It seems that whenever I go abroad things donít always run smoothly and this time I hoped as I got to Heathrow for my flight to Australia that this trip would be different. Little did I know what was in store with a certain volcano which kicked off the day after we got to Melbourne.
The last time I was invited to Australia to teach freestyle the sport was not recognised so now that it has been I was interested to see how the handlers had progressed. My first workshop was to be held in Melbourne where I had taught before, so I knew many of the handlers from last time. Sue Cordwell has done a lot in this area to promote the sport and has developed a nice group of handlers who all train regularly with her.
Staying with Sue for a few days before the workshop gave us a chance to do a little bit of sightseeing. Iím not someone who is a great sightseer as I prefer to do something but it was nice to see some more of the local area. The first day dawned and many people had travelled for quite a few hours to the workshop. There was a wide variety of breeds from a little Papillion who had some brilliant attentive heelwork to various medium sized dogs like Golden Retrievers and Belgian shepherd dogs. A breed which I have only seen in Australia is a Koolie which is a merle coloured collie type dog which is prevalent in this country, they look a bit like a collie crossed with a Kelpie.
Since the sport has been recognised last year in Australia some areas have had shows but down in Melbourne they have their first later this year. This meant that many of the handlers did not have any ring experience although many compete in other disciplines. On the first day I needed to concentrate on making sure their basic moves were being performed to a good standard and that the handlers had a good knowledge of basic choreography work.
As usual it took a while to get the handlers to relax and talk to their dogs but after a while they got into the groove and really worked well. It was quite warm in the building so some of the dogs and handlers were ready for a rest by the time we got to lunch time.
The rest of the weekend went well with handlers making real progress in the way that they handled the dogs and put moves together. There were some lovely teams who should do well when the competitions start and I look forward to seeing some of the routines.
It was quite a busy weekend so it was nice to have a relaxing day at the Healsville wildlife sanctuary on the Monday. This wildlife park concentrates on all the native animals one of which is the dingo. Seeing the dingo up close you could see where certain breeds could have originated from. We also had the chance to see two of the free flying bird shows where the birds really flew close to the audience.
On the Tuesday we said our goodbyes to Sue and boarded a flight to Brisbane which was a new area for me as last time I taught in Sydney. We were greeted at the airport by Gay Westmore with whom we were staying with before the weekend workshop. For the rest of Tuesday we relaxed and it gave me a chance to watch some DVDs of competitions that they have had recently in Brisbane.
For the next couple of days we visited Brisbane Zoo made famous by Steve Irwin who would jump on the crocodiles and Sea world. Some of the shows at Sea world were sketches just like we do with the dogs in freestyle except they were using sea lions. I found myself not so much watching the show but looking for the body signals that the trainers were giving for certain moves.
One evening we were taken by Barbara and Colin Murfet to see the Outback Spectacular which is a unique theatre show. Using film projected onto a huge screen and real life horses, cattle and sheep they told some of the history of Australia. This was all done while the audience sat and ate their dinner. We had been booked into an apartment for that night which overlooked part of the Gold Coast beach, I could not resist going to the beach and dipping my toe in the sea.
On the Wednesday evening I had been asked to give an obedience talk on motivation and positive training for a group in Brisbane. There was around a hundred people in the audience most of which competed in obedience with some who also competed in freestyle. Using video of my own dogs I tried to outline how I start off a puppy and then progress the dogs training so that they are working in a happy manner.
In the second half of the evening I had asked for several dogs and handlers to be available so that I could work with them. One team was a high drive Malinois who walked onto the field barking as it was so excited it might be doing work. Having had a high drive Border Collie I used some of the techniques I have learnt and I was delighted that this Malinois reacted so well. I was later told that people had never seen this dog so quiet while it was working.
The weekend workshop was being held at the Camp Tailwaggers venue which is run by Ann Bulke. This is a purpose built venue for canine workshops and has several chalets which handlers could stay. The chalets and training barn are all set high up on a hill so the view over the Gold coast from there was lovely and I think everyone who visits there would like the same set up for themselves.
After a welcoming meeting on the Friday evening it was time for a cabaret night which Ann had organised. There were many different types of routines and everyone was decked out in their sequined costumes. It was good to see Honey the Great Dane at work as I have been in contact with her handler before and Honey is somewhat of a star as she has her own blog which is written from Honeys perspective.
As the camp has a time schedule which they need to stick to for the caterers, the workshop the first day started at 8.30am. There had been so many handlers wanting to attend, Ann had split them into two so that the first day was for handlers who were less experienced and the second day was for those who have been doing freestyle for a while. The weekend was very busy with lots of questions and it was nice to work with people who obviously have a passion for the sport.
During my trip of course there was much concern as to whether I was going to be able to get back as all flights had been cancelled. I tried not to worry about this and concentrated on teaching. As our Sunday night flight got nearer I had my fingers crossed that we would be able to fly. Luckily in the end there was no problem and both flights took off on time. So to say I was slightly relieved to get back on UK soil was an understatement and Iím glad that I will not now be flying again till later in the year.
I would like to thank all the organisers and handlers that made my trip to Australia so memorable, it is a long way to go and teach but it was a lovely experience.
Crufts 2010
Well it certainly was a busy Crufts this year for myself and Pogo. This was the first year that she was in both the freestyle and HTM finals as last year I took her from novice to advanced in freestyle in just six months. The freestyle final was on the Thursday and I had decided to perform a routine I brought out at the start of last year. When Pogo made her debut in novice freestyle I created a routine around the music Hawaii 50 with a surprise bit of Jaws music in to just make it a bit more light hearted. At the time the routine went down very well and I quickly realised I should put it to bed for a while as people really liked it, so I put together another routine to the A team theme for the next few shows with Pogo.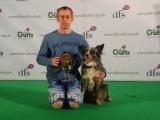 The routine is aided by the surfboards and the shark fin which was well received the first time I performed it and I think was most peopleís favourite part. On the Thursday at Crufts we had a late running order which was great as I had an early display to do in one of the other rings. The freestyle final was quite early in the ring which meant there was not as many people in the audience as there could be, I do hope in the future they move it to later in the day as the audience really makes the atmosphere.
The routine seemed to pass in a flash and everything seemed to go mostly to plan. I was glad the titanic move came off and I didnít realise so many people were reading the blog where I had mentioned it as it seems people had been guessing what I had meant. I was very pleased with Pogo as she worked well and came out on a good score. When the competition had finished it became clear that we had won the Crufts freestyle final and if I am honest it was all a bit emotional. This meant that Pogo was the second dog I have won the freestyle final with at Crufts as Disco had won it in 2006. Certainly now I hope Iím not classed as a ďone dog wonderĒ which I have often heard when people talk about someone who has won a competition once but never managed to do it again.
Later on in the day Pogo had to perform the routine again which was not ideal as she is not a collie with loads of energy and of course having won the freestyle final meant she would now have to work in the international competition on the Saturday. The reaction to the routine was great from people in the audience and I thought this would be peopleís favourite routine compared to my HTM one I was going to perform the next day.
Friday dawned and I had not had a lot of sleep having been awake again at 4am with the routines going through my head. I had chosen to perform a routine in HTM final which was a little out my comfort zone. This was not an easy choice but the original routine I was going to perform I couldnít seem to click with so made a late change in October to Lets face the music and dance. I have never done a dancing routine before and have not been to any dance classes so I really had to work on myself for this routine. When I videoed the routine on the Friday night before Crufts I could see that this routine might go oh so wrong if I did not get myself together. So I created my own ballroom / Fred Astaire type character and tried my best to act my way through the routine.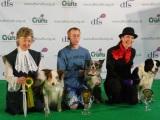 As Pogo had performed the day before twice I could sense she was a little tired so I hardly did anything with her before I went into the ring. Although I was nervous I didnít have too much alcohol as I was worried I might get too drunk and fall over! The routine went ok with just a few places which were more down to me that the dog, in one case my mouth was so dry I couldnít get the command out. The scores were rather different in some sections but thatís Crufts for you as you never know what will happen. The reaction to this routine after the competition was amazing and I have had several people say they actually preferred it to the freestyle one which I find unbelievable. We ended up third but all the first three were on twenty six points with just the decimal places separating us.
Onto the Saturday where Pogo had to perform again in the international competition representing England. From the start it was clear to see that this was going to be one of the best internationals there has ever been at Crufts. Pogo performed well and actually did some of the moves better than she did on the Thursday. We ended up second in this very strong competition which was no disgrace as the winner was a very good routine by Alena from the Czech republic. This was just my type of routine which was packed with moves and some lovely touches at the end, a very worthy winner. I think that some UK handlers better up their game as there are many other teams like Alena in Europe so if the UK still wants to be at the top of this sport they need to step up a level.
During all four days I was also doing three displays in the Good citizen ring, two of these were with some invited handlers. All the handlers did very well and the displays were of a good standard every day, so many thanks to all the handlers that came along to help me out. On the Sunday I also had a hour long demo to do on the Samsung stand. It was the first year that I had been on the stand and was very pleased with the way the display went. I was told later that there were over 200 people standing watching in the small space I performed which was the most they had over the four days.
So the whole four days as you might be able to tell went past in a flash and were very exhausting but enjoyable. Now its back to the grindstone finding music for the next new routines and attending a few shows to see if we can qualify again for the semis.
Back to Denmark
It was two years ago that I visited Denmark to judge and teach so I was looking forward to seeing how the sport had progressed. In the UK the sport has grown massively since the early days, with entries now getting to the stage where they cannot be all worked in one day. Denmark has not found there to be such a boom in the sport and the entry for the show I was judging at was in the mid fifties.
After a relaxing dinner on the Friday night I awoke early ready for a day of judging. The Denmark rules are similar to those in the UK but they have one main difference in their Heelwork to music classes. In Denmark they have all eight of the UK heelwork positions plus another two which are where the dog is in between the handlers legs facing forward and back.
There are three levels of classes and it was the top class that kicked off the day. The first dog into the ring was a black and tan Cavalier King Charles spaniel who performed a lovely routine to The maid on the shore. It is very hard to get a small dog to do lovely attentive heelwork but this handler has done brilliantly with this little dog. This team flowed around the ring with a nice amount of drive and it is probably the best small dog routine in HTM I have judged. They ended up third in this class but as the handler has only been competing for a year I think there is more to come from this team. The eventual winner was Helle Larssen with her Border Collie Littlethorn Avensis who performed a ballet type routine to a song from Billy Elliot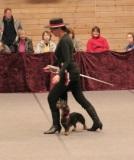 .
With the advanced class over it was straight onto intermediate HTM as the classes were being run in reverse order. There were five entrants in this class and it was topped by another Cavalier king Charles. It was another dog trained by the same handler that I mentioned earlier in the advanced class. Renate with her Cavalier Frida flowed around the ring with various HTM positions and the whole routine was aided by the handlerís smooth movement. Handlers of small dogs I feel often have a raw deal as judges get used to the preciseness of the Border Collies so donít know how to judge the smaller dogs who cannot be as tight to the handlers leg. Having trained small dogs myself I have tremendous respect for anyone who gets smaller dogs to work as this handler has. When I am judging HTM with small dogs I look for the same things that I would from one in the obedience ring which means the dog holds a consistent position.
The last class in the HTM section was the first class which would be equivalent to the starters / novice class in the UK. Renate with her Cavaliers was obviously on a roll as she won this class as well with a routine set to Jennifer Juniper. All three Cavaliers Renate worked were a credit to her dedicated training as they all came out with wagging tails and the same lovely attention.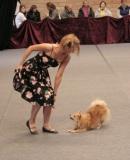 After a break it was the freestyle classes which started with the starters / novice level. The first team was a little Pomeranian cross who was performing to Pretty woman with her handler dressed in a complementary outfit. This team had also worked in the HTM starter class where they had achieved second place. Unfortunately this charismatic little dog got a bit excited and started to bark so her handler broke off and turned her back so as not to reward it. It was another Cavalier that followed but this time with a young handler Camilla who did a great job in keeping her dogs attention. Tarzan was the Cavaliers name and they moved around the ring with various jumps etc and did enough to scoop first place.
Onto the intermediate freestyle class where there were five entries with a mixture of breeds from a Welsh Terrier to an Akita. The winner was what looked like a smooth Jack Russell cross but is actually is a recognised breed which I think is called a Danish farm dog.
The last class was advanced freestyle where there was the largest entry of the day with eight teams. First into the ring were Annette and her lovely Border Collie Neo who is only two years old but is already performing in the top class and had recently taken part in the Nordic freestyle championships representing Denmark. This team produced a fast and furious routine which was set around a boxing theme.
It is always nice to see different breeds competing and I think freestyle is one where having a different breed can set you apart from the others. The next dog was a standard wire haired Dachshund called Addi who performed a flowing routine to a song from Zorro. Addiís handler was dressed accordingly and she had done a great job of teaching this charismatic dog. This team certainly had star quality and beat off some good competition to win the advanced class with a score of 24.23
After a dayís judging it was nice to relax with the organisers at one of their homes where we were treated to meal which would not have been out of place in a top restaurant. Friends who know me often say I donít eat enough so they would have been impressed here as I went back for seconds which is almost unheard of for me.
The following two days I was teaching workshops where we had great fun training the dogs and developing ideas. I enjoy teaching when the handlers are so receptive and it also has the added bonus of motivating me so when I got home I was even more fired up to get out and train my dogs
Click here to visit Pogo's sheepdog blog page to find out how she is getting on with her new hobby
USA Workshops, Displays and Sheepdog work
At the end of September 2009 after a very busy six weeks doing displays in the UK I was up early ready for my flight to Albuquerque which was the first of two locations I would be teaching at in the USA. Although I donít like flying I do enjoy having some spare time just to sit and think about routines working them through in my head. Sometimes when flicking through the iPod you stumble upon a piece of music which gives you a good idea and I was delighted to find a piece while I was sitting there for ten hours.
Those of you who have read about my other foreign trips will know that sometimes my luggage unfortunately goes astray. I always stand there hoping and praying that it will appear on the carousel. So having got to Houston a little late I didnít have a lot of time to get my luggage and go to the next gate for the flight to Albuquerque. My worst nightmare happened when my suitcase didnít appear and I was running out of time for the second flight. Asking an official they said to get the next flight then report it lost. This I did on the Friday but little did I know it would not be until the Monday morning before I saw my suitcase again.
After having a good nightís sleep it was straight into teaching the first day of the workshop for the Rio Grande canine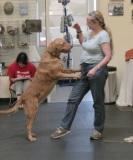 freestylers. There were twenty four teams working in a very nice new venue which has only just been opened. As usual when I teach in the USA there was very few Border collies which I find refreshing. Many of the dogs were rescue dogs with very mixed parentage but there were also Miniature poodles, Aussies and a Chesapeake bay retriever to name just a few.
Living out in the desert this group have had to rely mainly on books and DVDs to get started in freestyle. They had done a good job on getting started and many of them had competed via video in various competitions. As usual we started by making sure the foundations of the dogs training were good and then moved onto developing moves which they had not done.
The first day went well and it was then nice to relax in a local restaurant with many of the participants from the workshop. On the second day the teams were a little tired after doing so much on the first day so I made sure there were different sections to the day where they didnít always work their dogs. Very soon the workshop had finished and I was on a plane to Nashville to visit my good friend Brigitte who has the B star poodles.
Whenever I am in the USA I try and visit Brigitte as itís nice to catch up plus of course do a little freestyle with her many Poodles. She had a new pup called Tibby a black miniature who is going to be a right little madam and we had a laugh coming up with a nickname for her as she has such attitude.
The few days with Brigitte sped by all too quickly and I then found myself back at the airport ready for the two flights to San Francisco where I would then be going to Santa Rosa to teach another workshop. As I checked in my luggage I had my fingers crossed that it would not disappear as it had done on the way over.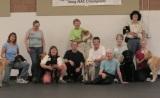 Greeting me at the airport was Chris from the Redwood dog dancing group who took me back to her house for a rest after the flight. Then it was an early start to get to the venue around an hourís drive from San Francisco. It was great to meet some handlers that have attended other workshops I have taught and catch up on their progress. The group was much smaller than the one the previous weekend as they preferred to have a little more individual instruction. The venue was set up for dog training and had plenty of room for the teams to spread out.
There were some very nice dogs in the group with one male Terverun from working lines who really had great drive and a small Papillion who had a lovely attention. I had a lovely two days teaching this group who all very eager to learn and progress their own dogs. It was then off to the airport for the long flight home.
Back home and of course having had only had little Betty for a couple of weeks before I went I was eager to get on with some training. She is coming along really well and proving a very popular addition to the team although she is perhaps a little spoilt but you just cannot help it with her being so small.
At the end of October I taught a workshop for a RSPCA branch which was interesting as the handlers were using dogs that were in the kennels at the time rather than their own dogs. There was a very nice Staffie which was eager to learn and could easily of come home with me. Later that week I found myself at the airport this time to pick someone up, rather than go abroad myself. I had met Eve from Brazil while I had been in the USA a few years ago and after some emails earlier this year we arranged for her to come over to stay for a while so that she can learn more about freestyle. At present there are only a few people doing freestyle in Brazil and also very few people using positive training. As well as doing lots of training it was nice to show Eve around the local area and we had a good time over the week that she was here.
During October I did something which I have always wanted to do which was to take part in a sheepdog training day. To me this type of training is proper work and although Pogo is over four years old I thought I would give it a go just to see whether she had any ability. Attending a beginners day in Worcester I was a little worried about what Pogo might do as she has never been off the lead near the sheep. Being an older dog I was not expecting too much but Pogo had other ideas. I never thought my freestyle/obedience training would overlap with sheepdog work but of course I have taught Pogo to big circle clockwise and anti clockwise plus of course lie down when told. I dont think the other members of the course believed me that she has never seen sheep before as she moved from side to side and controlled the sheep. I was totally amazed and I suppose a little proud of my girl as she proved to be quite good. So the next stage is to go back and have another go so that I can film it to prove that I have a sheepdog !! Click here to watch and read more about Pogo's sheepdog training
An interesting event I had at the start of November was an afternoon cabaret event with Mary Ray. We have in the past done events together but this was the first time that we did the whole session together. Mary was on good form and we had fun developing moves and routines which got some good laughs. Some people had travelled a long way to see the event and I was amazed that a couple of people had come over from Italy to watch.
So now its Discover Dogs where Pogo is performing a routine both days in the main ring and the other dogs will be doing various training displays in the main ring and the training ring. After that there are various cabaret evenings and at the end of month I will be back to Denmark to judge plus teach a couple of workshops so no rest for the wicked !!