Store
Training books and DVDs

Your products will be posted by UK Royal Mail.
Please allow 28 days for delivery.
If you have any queries, then you can email to
richard@k9freestyle.co.uk

**New** Sports dog New tricks
Trick training is a fun activity for
both you, and your dog, but do
you have time for it when there is
so much to teach in your chosen
discipline? The answer should be
an emphatic yes! Trick training
can play a key role in enhancing performance in
your chosen sport.
Top international canine freestyle handler, Richard
Curtis, has devised a series of tricks especially for
competition dogs, which are designed to fine-tune
both mental and motor skills. His step-by-step
advice is backed by a wealth of illustrations to show
you exactly what to do.
There are tricks to develop:
• Motivation
• Body awareness
• Core strength, stretching and flexibility
• Focus and thinking
There is also a series of low impacts tricks for older
dogs and for dogs that require rehabilitation.
Richard's instructions are easy to follow, and with his
expert guidance, you can enjoy fun training sessions
while building your dog's mental strength, his
confidence and his fitness.
The book is superbly illustrated with more than 300
colour photos
To purchase Sports Dogs New Tricks book: Click Here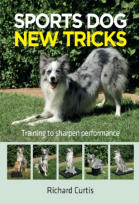 Advance your freestyle
This DVD is aimed at teams who need to
progress with their training. It is very much
a "thinking persons DVD" as it gives you the
strategies to take your own dogs training to
the next stage. It contains lots of tips to put
the polish and finesse to your
performance. Take the principles shown to develop your own
dogs strength moves and create that winning performance.
Some of the subjects covered are proofing moves, using body
signals, working without food, developing strength moves plus
much more.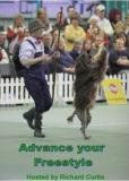 All you need to know about…
Heelwork to music DVD
This is a great new DVD for anyone
considering entering the Heelwork to
music division or who may want to
teach some of the more unique heelwork positions.
Heelwork to music is very different from Freestyle
as it requires the dog to be in one of eight heelwork
positions for two thirds of the routine. Each of the
UK's eight heelwork positions are explained and
how these can be linked together. Richard presents
this DVD in his usual straighforward style and gives
tips throughout the DVD so that you can construct
an interesting HTM routine. Other aspects of HTM
covered on the DVD are pivots, circles, directions,
music, competition preparation. This DVD will aid
beginners right through to more seasoned
competitors.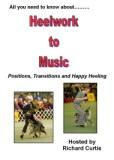 The Moves DVD
As the title suggests this DVD deals
with the many different types of
moves that can be used in Heelwork
to music and Freestyle. Updated
from the previous The Moves this DVD now is just
under two hours and is packed with many tips for
the new handler.
Richard Curtis presents the DVD showing with
various dogs at different levels of training what can
be achieved in a short period of time. Each move is
briefly explained and shown and then ways of using
that move in a routine, to make it look different.
Lots of moves are shown from the static moves to
the action moves right through to the "crowd
pleasers".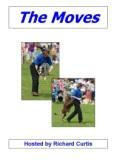 More Move and Music DVD
This video is presented in the same
straightforward style as the first and
deals with:-
* New moves plus some using
props
* Advancing moves and training
* Use of clicker training to achieve moves i.e. paw
over face
* Creating routines and example routines


Motivation and moves
Another training DVD presented in
Richard's normal straightforward
enthusiastic style. Richard shows how
to get your dog to perform some of his innovative
moves and also how to keep you dog motivated.
Subjects covered on this video * Control work for
freestyle * Technical moves like head turns and
look between the legs * Back leg up two methods *
Fun moves like digging and paw holding pole * Plus
how to teach the back to back move and much
much more!!



Puppy to performance
A unique DVD which follows Pogo
from 8 weeks until her first
competition at 19 months old. This DVD has many
hints and tips for training and developing you
puppy and gives you an idea of what you can
achieve at various ages. Watch as Pogo grows up
and see the progression she makes from a small
ball of fluff to confident performer


Dancing with dogs - a step by step guide
This book is an excellent idea for anyone
in the sport of heelwork to music or
freestyle. In an easy to read style it takes
you through the basic moves as well as
onto more advance moves. Hints and tips are given
throughout the book which will aid in you in your
training. The book culminates with a chapter on
how to put a routine together and then how to
beat the nerves on the day of the show.