Pogo is quite a sensitive little soul and has required a different approach to the other dogs but is still quick to learn, having learnt technical moves like paw over face and back leg up by the time she was six and half months.
During the summer of 2006 she made her debut at obedience shows and won the required two firsts to get her into the higher class. Later in 2006 Pogo attended her first competitions in the Heelwork to music class and I was delighted that she won on her debut performance which was a routine set to The Great Escape.
Using this same routine she went onto win at her next two shows in intermediate heelwork to music giving her the required number of points to get into advanced. Her first advanced heelwork to music class was in April 2007 and it just so happened to be one of the crufts semi final qualifying shows and I am glad to say she won!.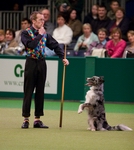 Pogo started 2008 well by winning the Crufts Heelwork to music semi finals at the Coventry competition performing her innovative snooker routine. It is difficult to find good music for HTM but I felt the theme from Pot Black TV show would give me a reason for doing heelwork. The only problem was that I needed a snooker table as I wanted the balls to disappear at the end of the routine. Its a good job I have a large van and people to help me at shows as the table weighed a tonne!
After winning the semi's it was only ten days to Crufts, we got the running order of number one which is the most unpopular place to be. Pogo worked well and lead the class till the last dog where she was piped by 0.03 of a point into second. Also Pogo had her part to play in the best in show routine with Mary Ray and me which for a dog of only just three years old I think she coped with well. Watch Pogo in her winning Heelwork to music routine on the
video clips page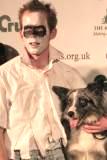 In 2009 Pogo once again won the Crufts semi finals Heelwork to music competition. At Crufts Pogo performed a routine to Thriller and ended up second again. During the rest of the year she won her way from novice to advance in the canine freestyle division thus qualifying her for both the Heelwork to music and canine freestyle semi finals in 2010.
Also during 2009 Pogo has taken up a new hobby of sheepdog training, to find out more about how we are getting along go to her
sheepdog training blog click here
At the Crufts semi finals 2010 Pogo did very well and qualified for both freestyle and HTM finals. Pogo won the freestyle semi final with her A team themed routine. At Crufts 2010 Pogo WON the freestyle final with her surf routine which means Richard is the only person to train two dogs to win the Freestyle finals.
Pogo has qualified for both semi finals again by winning both the freestyle and HTM Crufts qualifier in May 2010.