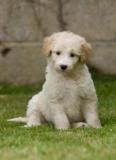 After much deliberation about what breed of dog I was going to have next I fell for the cute look of a poodle cross who I named Whizzy. She is the first crossbreed I have had and is very interesting as each side of her cross can come out at different times.

She instantly proved a hit with the crowd during the displays chasing her toy around the arena and of course it was good socialisation when she was a puppy. As she is part standard poodle I knew she would take a while to mature and grow up so I did'nt do quite as much as I would normally do with a puppy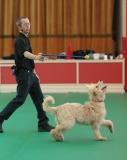 so that she could develop.
As she grew up I concentrated on her obedience and decided to put her in a few shows during 2009. Due to my busy schedule teaching and demonstrating I could only get to four shows. I was very pleased that she acheieved two firsts and two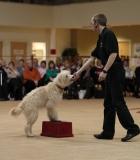 seconds which meant she has to go up to the next class. If i had more time I would have liked to progress her obedience but as the displays tend to be in the summer when the obedience shows are I cannot be in two places at once.
During 2010 I entered Whizzy in four competitions where she won two novice freestyle classes and then won two intermediate classes resulting in her qualifying for advanced freestyle. During the summer season Whizzy works a routine in the entertainment show which she does with great gusto and is a real favourite with the audience.
In 2011 Whizzy qualified for the Crufts freestyle final where she lead the class until Pogo worked her routine which put Whizzy into second, a good result for Whizzys first Crufts freestyle final.